Dham is a mid day traditional feast prepared and served during ceremonies like marriages, family events, and religious events in Himachal Pradesh.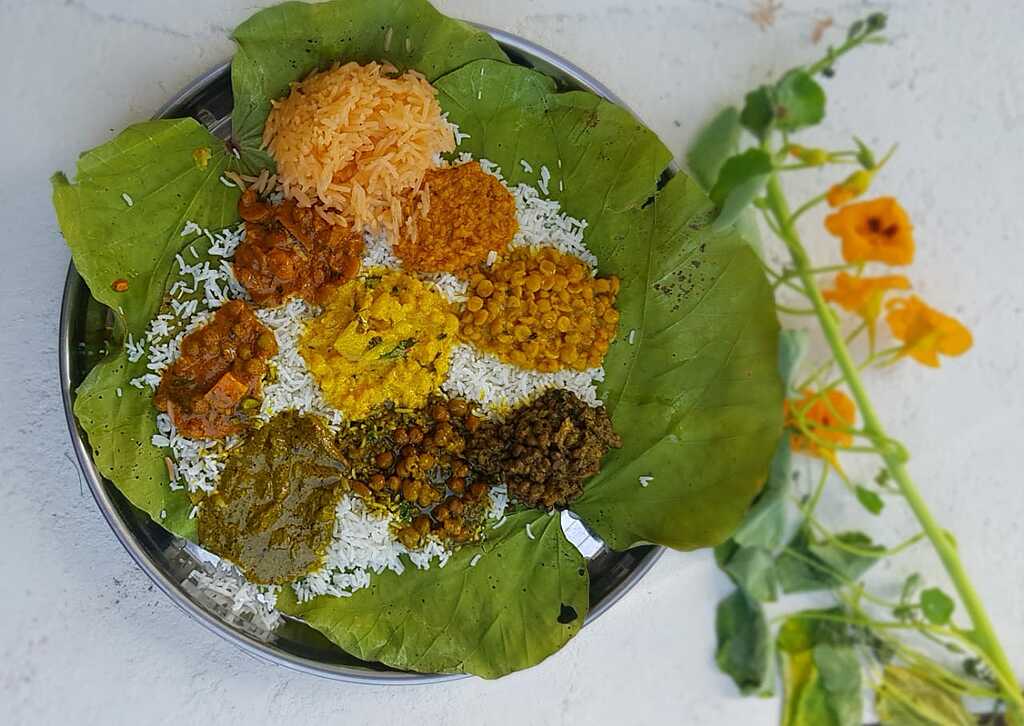 It all started around 1300 years ago when the then king of Himachal Pradesh, Jaistambh, was so impressed by Kashmiri wazwan that he ordered his cooks to prepare a similar feast back home but without the use of meat and onion, garlic. Thus this new kind of cuisine was born in Himachal Pradesh.

Dham is cooked by a special community of brahmins called "botis". All "botis'' wear janeyu (sacred thread), parna and other traditional clothing given to them by the host. No shoes or footwear are allowed. The head "boti" and he guides the rest of his team. Since he has the maximum experience, he adds the masalas.


The food is cooked in a place called Rasolu. It is a temporary kitchen usually built outside the main house with bamboo sticks as main pillars and steel sheets as roof. 
Special brass vessels with a narrow opening and broad base (like pitcher shape) known as 'Charoti' or 'Batloi' are used. Mostly, every house in a village/town has such utensils, and they are collected from every home a day before the dham. These vessels are conductors of heat and with their thick base and narrow opening keep the food warm for a long time.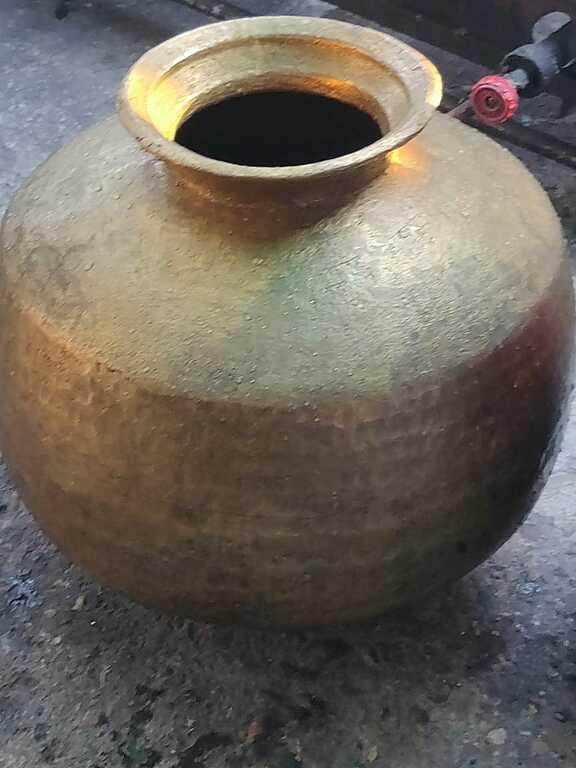 Slow cooking is done in these pots on wood fire and even today pressure cookers are not used. Cooking the food slowly on firewood brings out the unique flavours of the dishes.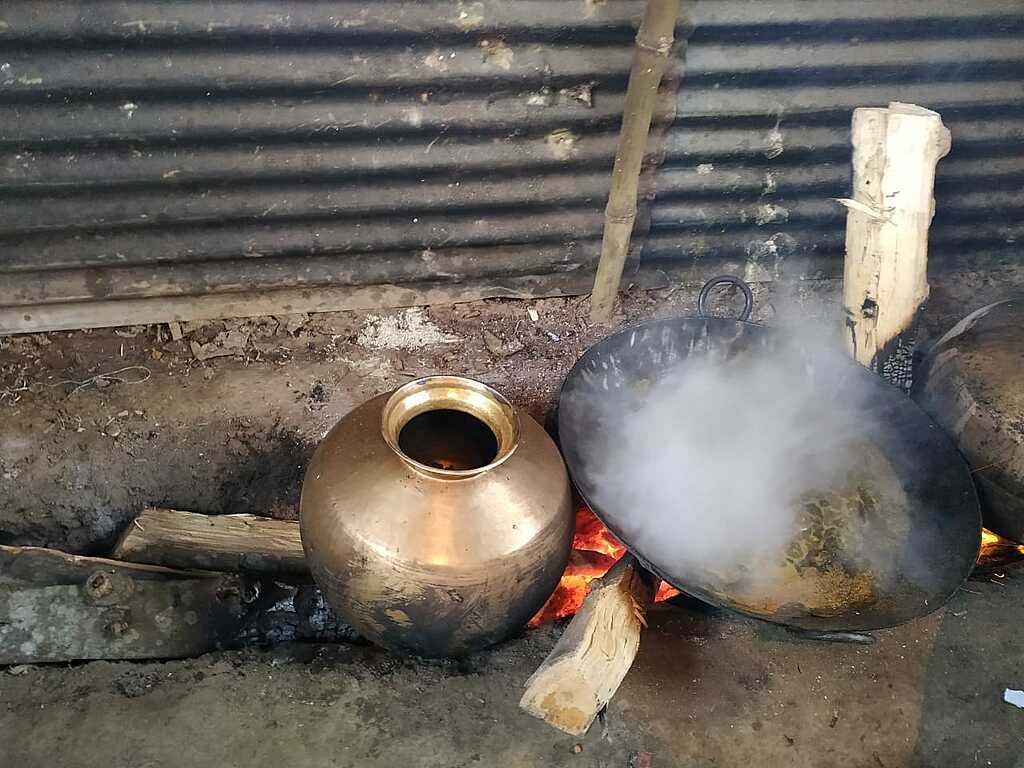 The food is either cooked in mustard oil or ghee and is never reheated, only rice is cooked as required.


The Kangra Dham
 The traditional dham differs in every region of the state. A specific pattern is followed while serving the food. 
Dham is a rice based meal and plain rice is served first with madra. Madra, a yogurt-based chickpea curry, is the king dish of the dham. 
A traditional Kangra dham consists of madra (yogurt-based chickpea curry), tailey maash dal (whole black lentils cooked with spices and mustard oil), mahni (sour chickpea curry), soye chana dal, kadhi (spiced buttermilk soup), sepu badi (black lentil badi/dumpling curry), meetha bhaat (fragrant sweet rice), and more depending on the geographical and climatic conditions of the districts but also according to the traditional methods under natural conditions mostly from the staple ingredients.
Rice is served thrice. First with madra, (sometimes two or three types of madra is cooked and served) then with tailey maah and mahni and lastly with chana dal and kadhi. 
More rice is served only on request. You can ask to serve food in an additional pattal/leaf plate to take home. At home, everything is mixed together and reheated before eating. This is called
Tudkiya
…
tudkiya bhaat.
Tudkiya bhaat
has a taste of the next level!
Dham brings the whole community together as people sit down on the ground to enjoy the elaborate meal.